Yoga Retreat 28 May – 2 June
Slow Down, Recentre and Reconnect with Your Self 
Sunday 28 May to Friday 2 June 2023   *** Fully Booked / Waiting List ***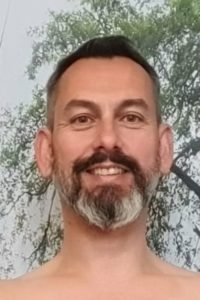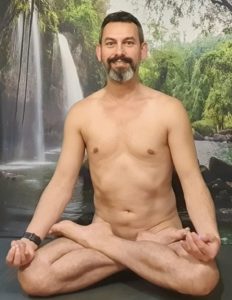 Finca la Maroma welcomes Gérard (Om Body Studio) to offer this special 5 day / 5 night men's naked yoga retreat.
Wrapped up and protected by the peaceful tranquility of Finca la Maroma, snuggled up against the mountains, we will learn how to slow down, recentre and reconnect with our self. Using a wide range of Yoga tools, adapted for you (including Hatha Yoga, Yin Yoga, Yoga Nidra, Meditation, Sloth Motion Yoga ® and more…) Gerard will help you to take a step back, look inward, rediscover the sense of self, connect your body and mind to build confidence and strength to get back to what is important and truly valuable: YOU!
This retreat is designed to make sure You'll leave feeling refreshed, rejuvenated, and ready to tackle life's challenges head on, with a smile and the knowledge that you've got this.
There'll be plenty of delicious home-cooked food and the chance to relax and enjoy our heated pool, jacuzzi, gym and wonderful gardens.
Price €795 based on two guests sharing a double studio (plus optional chill-out weekend at 20% discount).
Download full details here (PDF).
Space is limited, so contact us now to reserve your place.
Gérard is French and has been living in the UK since 2016. He first discovered Yoga during a retreat, and Yoga practice quickly became a passion. The practice has supported him on many levels and he feels a strong sense of responsibility to share. That's why, after 2 years of practice, he decided to go to India to instill yoga into his daily life in its traditional way. He completed a RYT 200 Yoga Alliance training at Diya Yoga School, then opened Om Body Studio in Milton Keynes where he teaches, both in studio and online, to students from across the world.  3 years after he passed his certification, he returned to Diya Yoga for 200 more hours deepening his knowledge.
Professional, but not taking himself too seriously, his yoga style is adaptive, easy to reach, connected to our western life (no chanting, no Sanskrit), focused on improving your flexibility and building strength at the same time, finding a deeper connection with yourself and rediscovering your body. He truly believes that Yoga is accessible to everyone regardless of their belief, spirituality, body shape and abilities, Yoga is a gift to share with everyone.