Yoga Retreat 5-10 May 2019
*** SPACES AVAILABLE ***
Yoga Glow
Sunday 5 to Friday 10 May 2019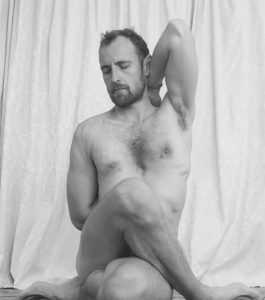 Finca la Maroma welcomes back Andy (andybutterfield.com) from Yoganu to offer this special 5 day / 5 night men's naked yoga retreat.
The focus of the week will be dynamic vinyasa flow yoga. This is a relatively vigorous practice, which strengthens the core and upper body. You will be guided through sequences that generate heat to detoxify and energise and that quieten the mind by absorbing it in a lively physical practice. Beginners are welcome but you should be relatively fit and active.
The hushed and stoic beauty of the mountains are the perfect backdrop for a few days of yoga, touch and massage, nature connection, mindfulness and meditation. In what are more than just yoga retreats, Andy shares practices, exercises and games to enable deeper connection to oneself, others and the world around us. Replenish your body's strength and vitality, let go of what no longer serves you and open up to the joy and camaraderie of community.
There'll be plenty of delicious home-cooked food and the chance to relax and enjoy our heated pool, jacuzzi, gym and sauna.
Price €695 based on two guests sharing a double studio (plus optional chill-out weekend at 20% discount).
Download full details here (PDF).
Space is limited, so contact us now to reserve your place.
Andy has journeyed through various styles of yoga and folds elements of these, along with his shiatsu bodywork experience into a mindful, breath-led flow practice. Classes focus on the creation of space in the body and mind, softening what is stuck and restoring and resourcing us with increased movement, flexibility and vitality. Partner work is also woven in, allowing us to experience that with assistance, support and encouragement, we can move more easily towards the goal of yoga – self knowledge and self love.
 Sometimes his classes focus on the creation of space, softening what is stuck and restoring and resourcing us from the inside. Other times, we work hard with strengthening and empowering practices to burn off what isn't serving us and feel the joy in offering more than we thought we could.
 His approach balances power and gentleness as he works to help you inhabit your body more fully, relaxing into it with deeper compassion, appreciation and contentment.
He is passionate about creating community and holding a safe, relaxed and meaningful space for gay and bi men to meet and explore intimacy, connection and joy.